Thailand is my country; it is the most popular tourist destination in
Southeast Asia
, and for a reason. You can find almost anything here: thick jungle as green as can be, beautiful crystal blue beaches that feel more like a warm bath than a swim in the sea and food that can curl your nose hairs while tap dancing across your taste buds. Exotic, yet safe; cheap, yet equipped with every modern amenity you need, there is something for every interest and every price bracket, from beach front backpacker bungalows to some of the best luxury hotels in the world. And despite the heavy flow of tourism, Thailand retains its quintessential Thainess, with a culture and history all its own and a carefree people famed for their smiles and their fun-seeking sanuk lifestyle. Many travelers come to Thailand and extend their stay well beyond their original plans and others never find a reason to leave. Whatever your cup of tea is, they know how to make it in Thailand.
This is not to say that Thailand doesn't have its downsides, including the considerable growing pains of an economy where an agricultural laborer is lucky to earn 100 baht per day while the nouveau riche cruise past in their BMWs,
Bangkok
, the capital, is notorious for its traffic jams and rampant development has wrecked much of once-beautiful
Pattaya
and
Phuket
. In heavily touristed areas, some lowlifes have made
scamming
tourists into an art form.
The earliest identifiably Thai kingdom was founded in
Sukhothai
in 1238, reaching its zenith under King Ramkhamhaeng in the 14th century before falling under the control of the kingdom of
Ayutthaya
, which ruled most of present-day Thailand and much of today's Laos and Cambodia as well, eventually also absorbing the
northern
kingdom of Lanna. Ayutthaya was sacked in 1767 by the Burmese, but King Taksin regrouped and founded a new capital at
Thonburi
. His successor, General Chakri, moved across the river to
Bangkok
and became King Rama I, the founding father of the Chakri dynasty that rules (constitutionally) to this day.
Known as Siam until 1939, Thailand is the only South-East Asian country never to have been colonised by a foreign power, and fiercely proud of the fact. A bloodless revolution in 1932 led to a constitutional monarchy. During World War II, while Japan conquered the rest of Southeast Asia, only Thailand was not conquered by the Japanese due to smart political moves. In alliance with Japan during World War II, Thailand became a US ally following the conflict. After a string of military dictatorships and quickly toppled civilian Prime Ministers, Thailand finally stabilized into a fair approximation of a democracy and the economy boomed through tourism and industry. Above it all presided King Bhumibol Adulyadej (Rama IX), the world's longest-reigning monarch and a deeply loved and respected figure of near-mythic proportions.
In September 2006, a swift and bloodless military coup overthrew populist tycoon Thaksin Shinawatra's democratically elected but widely criticized government, exposing a fault line between the urban elite that has ruled Thailand and the rural masses that supported Thaksin. Thaksin went into exile and a series of unstable governments followed, with the successors of Thaksin's Thai Rak Thai party and the royalist-conservative People's Alliance for Democracy duking it out both behind the scenes and, occasionally, out in the streets, culminating in Bangkok's airports being seized and shut down for a week in November 2008. As of 2009, things have quieted down, but the political scene remains in flux and the direction of the country once the ailing King passes away is a question mark.
Cool
: From November to the end of February, it doesn't rain much and temperatures are at their lowest, although you will barely notice the difference in the south and will only need to pack a sweater if hiking in the northern mountains, where temperatures can fall as low as 5°C. This is the most popular time to visit and, especially around Christmas and New Year's or at Chinese New Year a few weeks later, finding flights and accommodation can be expensive and difficult.
From March to June, Thailand swelters in temperatures as high as 40°C (104°F). Pleasant enough when sitting on the beach with a drink in hand, but not the best time of year to go temple-tramping in Bangkok.
: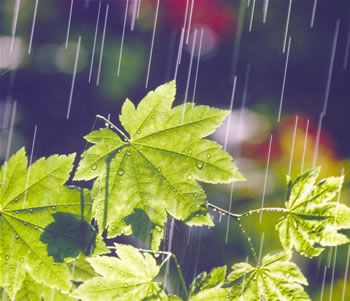 Rainy
From July to October, although it only really gets underway in September, tropical monsoons hit most of the country. This doesn't mean it rains non-stop, but when it does it pours and flooding is not uncommon.
People in Thailand
Thailand's people are largely Thais, although there are significant minorities of Chinese and assimilated Thai-Chinese throughout the country, Muslims in the south near the
Malaysian
border and hill tribes such as the Karen and the Hmong in the north of the country. The overwhelmingly dominant religion (95%) is Theravada Buddhism, although Confucianism, Islam, Christianity and animist faiths also jostle for position.
Wat Doi Suthep,
Chiang Mai
Mainland Thai culture is heavily influenced by Buddhism. However, unlike the Buddhist countries of
East Asia
, Thailand's Buddhists follow the Therevada school, which is arguably closer to its Indian roots and places a heavier emphasis on monasticism. Thai temples known as wats, resplendent with gold and easily identifiable with their ornate, multicolored, pointy roofs are ubiquitous and becoming an orange-robed monk for a short period, typically the three-month rainy season, is a common rite of passage for young Thai boys and men.
One pre-Buddhist tradition that still survives is the spirit house (
ศาลพระภูมิ
saan phraphuum
), usually found at the corner of any house or business, which houses spirits so they don't enter the house and cause trouble. The grander the building, the larger the spirit house, and buildings placed in particularly unlucky spots may have very large ones. Perhaps the most famous spirit house in Thailand is the Erawan Shrine in
central Bangkok
, which protects the Erawan Hotel (now the Grand Hyatt Erawan) - built in 1956 on a former execution ground - and is now one of the busiest and most popular shrines in the city.
Some traditional arts popular in Thailand include traditional Thai dancing and music, based on religious rituals and court entertainment. Famously brutal Thai boxing (muay Thai)
, derived from the military training of Thai warriors, is undoubtedly the country's best known indigenous sport.
In addition to the mainland Thai culture, there are many other cultures in Thailand including those of the "hill tribes" in the northern mountainous regions of Thailand (e.g., Hmong, Karen, Lisu, Lahu, Akha), the southern Muslims, and indigenous island peoples of the Andaman Sea.
In addition to the Gregorian calendar, Thailand also uses the Thai solar calendar, which is 543 years ahead. Thus, Thai year 2553 corresponds to the Western year 2010. Thai dates in English are often written as B.E., short for "Buddhist Era".
Some Thai holidays are still calculated with the older Thai lunar calendar, so their dates change every year.
Wat Phra Si Sanphet,
Ayutthaya
Thailand has a lot of holidays, mostly related to Buddhism and the monarchy. Nobody celebrates all of them, except for banks, which seem to be closed a lot.
Makha Bucha
(
มาฆบูชา)
-
falls on the full moon in of the fourth Lunar month, which usually falls in February or March, and commemorates the spontaneous gathering of 1,250 people before the Buddha, which led to their ordination and subsequent enlightenment. At temples in Bangkok and throughout Thailand, Buddhists carry candles and walk around the main shrine three times in a clockwise direction.
During Chinese New Year (
ตรุษจีน)
, Chinese Thais, who are numerous in Bangkok, celebrate by cleaning their houses and offering food to their ancestors. This is mainly a time of abundant feasting. Visit Bangkok's Chinatown or Yaowarat to fully embrace the festivity.
Songkran
(
สงกรานต์)
-
undoubtedly the most fun holiday - is the celebration of the Thai New Year, sometime in April (officially April 13th to 15th, but the date varies in some locations). What started off as polite ritual to wash away the sins of the prior year has evolved into the world's largest water fight, which lasts for three full days. Water pistols and Super Soakers are advised and are on sale everywhere. The best places to participate are
Chiang Mai
, the
Khao San Road
area in Bangkok and holiday resorts like
Pattaya
,
Ko Samui
and
Phuket
. Be advised that you will get very wet, this is not a spectator sport. In recent years, the water-throwing has been getting more and more unpleasant as people have started splashing iced water onto each other. It is advisable to wear dark clothing, as light colors may become transparent when wet.
Loy Krathong
(
ลอยกระทง)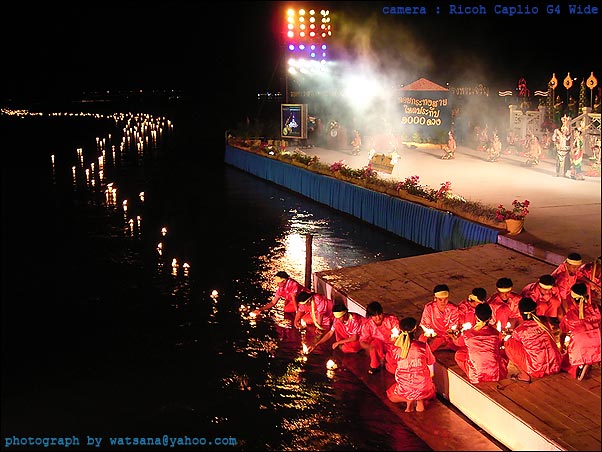 falls on the first full moon day in the twelveth month in Luna calendar, usually on November, when people head to rivers, lakes and even hotel swimming pools to float flower and candle-laden banana-leaf (or, these days, styrofoam) floats called krathong (
กระทง).
The krathong is meant as a thank you offering to the river goddess who gives life to the people. Thais also believe that this is a good time to float away your bad luck and many will place a few strand of hair or finger nail clippings in the krathong. According to tradition, if you make a wish when you set down your krathong and it floats out of sight before the candle burns out, your wish will come true. Some provinces have their own version of Loy Krathong, such as
Sukhothai
where a spectacular show takes place. To the North, Chiang Mai and Chiang Rai, have their own unique tradition of floating Kom or lit lanterns balloon. This sight can be breath-taking as the sky is suddenly filled with lights, rivaling the full moon.
Coronation Day
(May 5) commemorates the crowning of the current King in 1950 (although his reign actually began on June 9 1946 - making him not only the longest-serving monarch in Thai history, but also the world's longest-serving current Head of State).
The King's Birthday (December 5) is the country's National Day and also celebrated as Father's Day, when Thais pay respect to and show their love for His Majesty the King. Buildings and homes are decorated with the King's flag (yellow with his insignia in the middle) and his portrait. Government buildings, as well as commercial buildings, are decorated with lights. In Old Bangkok (
Rattanakosin
) in particular, around the Royal Palace, you will see lavish light displays on trees, buildings, and the roads. The Queen's Birthday (August 12) is Mother's Day, and is celebrated similarly if with a little less pomp.